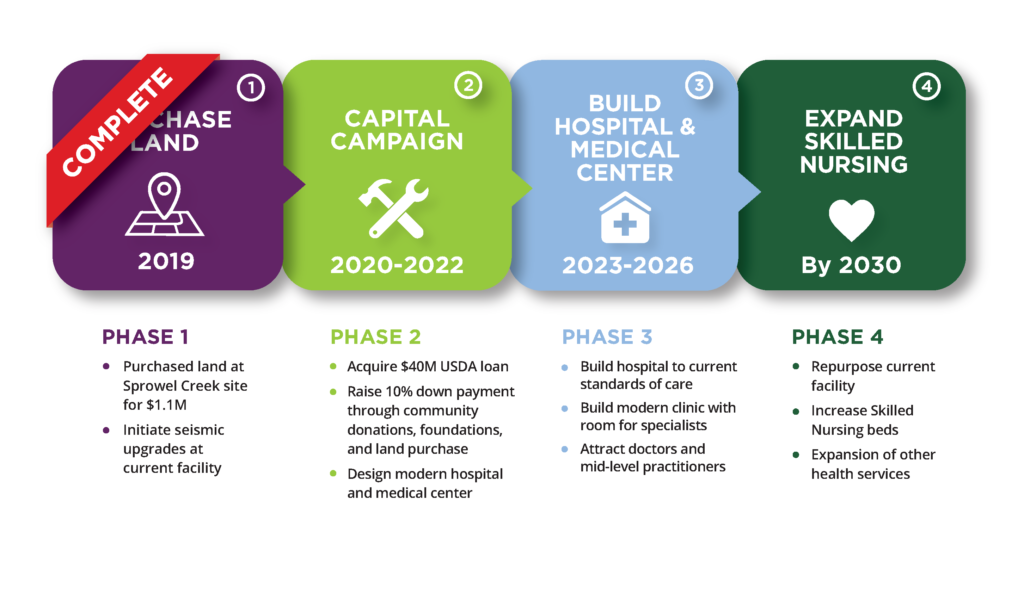 We have a once in a lifetime opportunity to build a new, modern hospital in Garberville. Now, our community needs your help to make it a reality.
As each day passes, we get closer to the day our hospital in Garberville will no longer meet new statewide earthquake requirements. If we do not build a new facility by the deadline, Jerold Phelps Community Hospital will have no choice but to close its doors.
It will cost roughly $40 million to build a new, seismically-safe, modern hospital. A low-interest government-backed USDA loan is available for the construction costs. Now we need to raise the funds for the 10% down payment to show strong community support for the loan to be approved.
The exciting news is that SoHum Health has already purchased the site for our new hospital and with the generous donations and pledges we have received thus far, we are over half-way to our goal! Will you help ensure that every person in our community has access to high-quality emergency health services, right here at home?
If we have learned anything from the COVID-19 pandemic, it is that we need more hospital beds going forward, not less. We must develop our own infrastructure to guarantee long-term sustainability. Your support at this critical time is more vital than ever. The future of Southern Humboldt depends on it.
Please join us in making a meaningful donation today! The life you save could be yours or someone you love.
Donate Now
Make a Pledge